From: The News-Press, Friday, April 27, 2001. www.newspress.com

Study of river's oxbows revived
Students research health of bends in Caloosahatchee

By PAMELA SMITH HAYFORD ( phayford@news-press.com)

RiverWatch - with the help of a few seventh- grade scientists – is reviving an oxbow study on the Caloosahatchee River.
About a dozen students from the Lee Middle School Science, Technology, Environment and Math (STEM) magnet program are helping – and learning at the same time.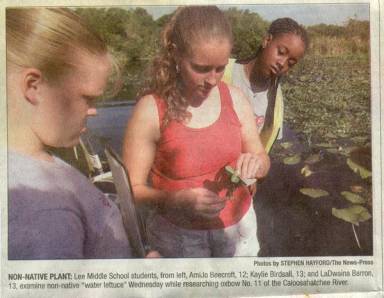 About six at a time, the students go out on the river once a week to take bug samples and measure various water features, such as depth and oxygen levels. This week, Kory Kantenga, 12, sorted through some brown mud in a shallow white tray, picking out anything that moved on its own. This was his first time taking bug samples.
Occasionally, Kaylic Birdsall, 13, glanced up from her tray to tell Kory the scientific name of a critter.
"How do you know all the names of these?" said Kory, who had been on another boat measuring water depth
"Because she talks about them all the time," Kaylie replied, referring to Rae Ann Wessel, the scientist leading the study and a RiverWatch member.
Wessel runs Ecosystem Specialists consulting.
The students' environmental studies teacher, Laura O'Brien, is a RiverWatch member, too. "You can talk in a classroom all you want about these environmental problems, but until you come out and see, it doesn't really click," O'Brien said.
Oxbows are the ancient U- shaped bends along the sides of the river - nothing to do with bulls or oxen.
Many oxbows are dying.
The Caloosahatchee River Citizens Association RiverWatch launched the study in 1996 to find out how to save the ancient bends, winch provide nurseries for the creatures that swim and live in the Caloosahatchee.
The study, called the Caloosahatchee Oxbow Restoration Demonstration project, lost its money when the South Florida Water Management District cut several programs from its budget to make room for the Everglades restoration.
RiverWatch is now raising money on its own to pay for the study. The information the students collect and a lab analysis of the bug samples will go into a report by Wessel.

The study results will help RiverWatch show which oxbows need restoration and how to go about solving problems.
The results will also help the group choose an oxbow for a demonstration project to test restoration methods.
"We'll be able to come in and say, "This is something that needs to be fixed," Wessel told the students. 'This is real science and you're doing it."
Some oxbows don't have the little critters that usually hang out in them. Some don't have enough water flowing through them and are filling with sand – a side effect of the channelizing of the river in the early 20th century. Some oxbows are polluted by fertilizer runoff from grassy lawns that run right up to the water's edge.
This week the students studied oxbow No. 11 east of the Alva bridge.
"It's basically what I would be doing with my staff," Wessel said.
They found spiders and black shiny water bugs called hydrocanthus, fly larvae, gelatinous algae, a pileated Woodpecker, grasshoppers, water lettuce, alligator weed, pennywort, rams horn snail shells, apple snails, mites, leaches, even a few manatees and turtles.
"You guys found the rare Budweiser algae," Kory called out when he saw a fellow student pull a beer can out of the water.
The students say they would much rather be on the river sifting mud for insects and measuring water pH than listening to lectures in school.
"Some of these organisms I never knew existed," said Jarvis Barnes, 13, who said he wants to be an agricultural engineer.
"And it's not boring," Kaylie said.