WHAT ARE THE OXBOWS

The oxbows are the remnants of the original Caloosahatchee. Before its dredging and straightening, the Caloosahatchee was a small, winding river that snaked its way from Ft. Thomson (just east of LaBelle) to the estuary at Ft. Myers. The 1950's dredging effectively eliminated the meandering course of the river leaving some of the original bends of the river outside the main river channel. These bends, known as oxbows, are all that remain of the historic, narrow, meandering river bed. The dredging which straightened and channelized the Caloosahatchee and the installation of the WP Franklin Lock and Dam in the mid-1960's changed the character of the river forever. The dredging transformed the crooked river with headwaters located in a lake above a waterfall, into a wide, straight, deep channel which spans the southern peninsula of Florida connecting the Gulf of Mexico and the Atlantic Ocean.
The modern C-43 canal and the original Caloosahatchee are shown in the maps below.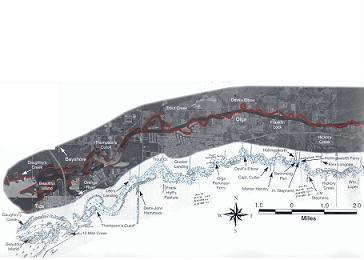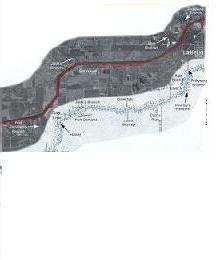 The installation of the WP Franklin Lock, near Olga in east Lee County, created two, distinct river systems within the Caloosahatchee. Upstream, east of the lock, the river became a pooled freshwater system isolated from the tidal influence of the Gulf of Mexico. Downstream of the locks, the western reach of the river remains a tidally influenced estuary; mixing sea water from the Gulf with freshwater inflows from the surrounding watershed and the eastern reaches of the river.
Approximately 35 oxbows are located in the freshwater portion of the river between the WP Franklin Locks in east Lee County and the City of LaBelle in Hendry County. Eight oxbows are located in the wider, estuary portion of the river, downstream of the lock.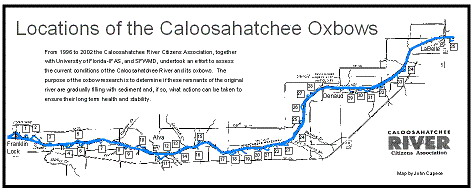 Text contributions by Rae Ann Wessel and John Capece
Original artwork by Heather Townsend
Maps by Antonini, Fann, and Roat. 2002.
A Historical Geography of Southwest Florida Waterways: Volume 2 - Placida Harbor to Marco Island.
Florida Sea Grant, SGEB 056.
Gainesville, Florida.