A Letter from Our President
Rob Andrys
It was a busy and successful summer for RiverWatch. On June 24th we cosponsored a public education seminar with the Calusa Nature Center and Planetarium. Mr. Wayne Daltry, Executive Director of the Southwest Florida Regional Planning Council, presented a history of the Everglades, and the people and politics that changed the famous River of Grass. He brought with him the voluminous report, 'Everglades Restudy', a plan we all hope restores the Everglades to a more healthy state. It calls for more and cleaner water to be restored to the Everglades and less water wasted by flowing out the Caloosahatchee and St. Lucie rivers. Wayne noted that the plan calls for storing huge amounts of water parallel to the Caloosahatchee that can be held in the summer and drawn down during the winter. He pointed out that creating impoundment lakes which will require pumping stations, electricity and maintenance is going to be an expensive continuing cost. He suggested the acquisition of wetlands property; this would require more acreage, but the ongoing maintenance costs are minimal in comparison and more land would be put into wildlife habitat, an added bonus.
What does the Restudy mean for the Caloosahatchee River? It means less water will flow down the river, and this is both good and bad. It is good because the plan calls for excessive freshwater discharges that damage the estuary to become a rare occurrence rather than a continuing problem. It is bad because the pollution and sediments that enter the river will become more concentrated as less water is available to dilute this witch's brew. The problems created by municipal waste treatment discharges and thousands of septic tanks leaching effluent into canals and ultimately the river must be addressed now rather than wait for the inevitable crisis. Public policy makers need to be told repeatedly that keeping the river healthy and clean is important to us.
Members of the RiverWatch spoke at a public workshop of the South Florida Water Management District on June 30th, expressing our thanks to the staff and members of the Governing Board for their past support of research in the Caloosahatchee basin. We asked for continued research and asked them to implement solutions to the problems revealed by the research, especially in regard to the river's oxbows and bank erosion.
On July 30th, RiverWatch members slid on rubber gloves and helped spray Brazilian pepper sprouts along a cleared section of shoreline at Caloosahatchee Regional Park in Alva. This area will be replanted with natives once the exotics are eliminated. We will keep you updated as to when you can join in this replanting effort.
Our storm drain stenciling program is underway again. This time, we have long-lasting metal signs that are glued to the concrete next to drains to remind people that whatever is put into the drains goes directly into the river. Many thanks to Steve Boutelle for getting supplies and to Connie Denise who is coordinating this effort.
As you can see, RiverWatch is fulfilling our mission to be advocates for the health of the river, to educate the public on issues affecting the river and to take action with projects that enhance the river. I invite you to become active in the projects, attend a meeting of our Board of Directors to express your opinions, tell a friend about RiverWatch and send in your $10 membership fee if you have not yet done so this year. We need to know you want to stay involved. See you on the River!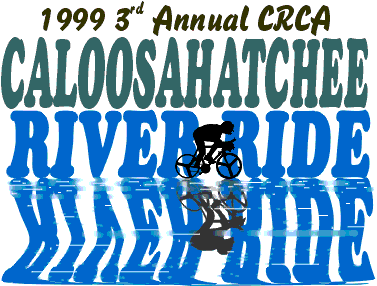 Caloosahatchee River Ride 1999
Sunday, November 21st is the date for our Third Annual Caloosahatchee River Ride! This ride is a cycling event designed to allow participants to enjoy the scenic beauty of the Caloosahatchee watershed. Riders of all ages and abilities are welcome — routes of 17 to 62 miles will be set up to allow each participant to ride for a comfortable distance at a comfortable pace. Please come out and join us for this event!
If you're not interested in riding, we are looking for a few volunteers to assist with the event. We need assistance with T-shirt design, people to work at the rest stops and registration, and some help transporting supplies to the rest stops. If you are interested in helping with the event, please contact Race Director Keith Kibbey at 941-278-7070 (daytime), 941-267-7584 (evenings) or at lcel@hotmail.com.

Caloosahatchee Clean Up
Keep Lee County Beautiful (KLCB) has invited us to join the ninth annual Monofilament Madness and Barbecue, aka Marine Clean Up. The clean up focus for RiverWatch members is the shoreline of the Caloosahatchee River. Clean up begins at safe light on Sunday, October 24th and culminates at Tarpon Point Marina in Cape Coral at Noon with a barbecue provided by Sam Galloway Ford.
Boat owners can collect trash and monofilament along the banks of the Caloosahatchee, from the river waters, and on the shores of river islands frequented by boaters. Filled trash bags can be deposited on the KLCB barge as it cruises up the river, or they can be taken to Tarpon Point Marina.
People without boats can pick up refuse along any of the creeks and other tributaries of the river, as well as the hundreds of canals throughout Southwest Florida. Helpers are also needed at the barbecue, so there is a job for everyone!
Please participate in this worthwhile river clean up project. To find a team with which you can volunteer, please call the CRCA Info-Line. To register for the barbecue at Tarpon Point Marina, please call the Keep Lee County Beautiful office at 334-3488.
A Day at the Park
You've heard the expression, "It ain't done till the paper work is finished". Well, we thought we had completed

all the planning for a workshop to demonstrate what types of plants can be used by landowners to restore riverside habitats, and then Rob Andrys spoke to Rae Ann Scholle. Halfway though the conversation she asked, "Who did you get to draw up the permit drawings for the Army Corps of Engineers and the DEP?" "The what?" Rob replied, "why do we need permits, we're putting some plants next to the water, not building a submarine base!"
Come to find out, in order to do the most good for introducing fish habitat along the riverbank, you want plants that grow right at the edge of water and land. That might seem easy until you consider the three-foot waves that will be pounding those new plants like an All-Star wrestler on a Saturday night. Since you don't want your work to float down river, some rocks must be stacked up to protect the plants. But now you've put your rocks on the Corps easement and you need a permit to do that!
We will apply for the necessary permits and document the steps you need to take if you would like to plant along the riverbank. We will also help with some actual plantings at two different riverside planting workshops. The first will be on October 16th at the Caloosahatchee Regional Park in Alva at 8:30 a.m. The second will be in late January of next year at the Alva Bridge site. This will give us two different sites and opportunities to show a variety of habitat restoration efforts. Please join us at the Park on Saturday, October 16th!